The most effective way to boost conversion rates and achieve long-term success is by increasing your team's focus and productivity.
It's far too common for short-term tactics that provide an instant impact to be used erratically, in place of prioritising the long-term collective improvement of a sales team.
What makes a great sales system is a motivated and productive sales team advancing towards a common goal.
In this article, we'll give you tips on increasing your team's productivity and how to take their sales performance to the next level.
What Is Sales Productivity?
Sales productivity refers to how much output a salesperson creates compared to the resources they use while advancing towards their short- and long-term goals.
While the resources used can be time, money, and effort, the outputs are measurable sales results.
Many factors affect productivity, such as
organisational structure, sales team culture, mindset, and managerial support
. All of these elements need to be strengthened jointly to create significant improvement.
How to Increase
Sales Team Productivity
There's not much that can make a sales manager more proud than a team of productive salespeople who add value to their organisation, clients, and industry.
Small changes in your organisational structure and management style can strengthen your team's mindset and radically improve their confidence and
closing skills
. 
As the sales leader, you are responsible for setting the tone and adopting an open mindset and environment to enable your team to thrive.
Here are 8 essential tips to increase
sales team productivity
in an effective way.
1- Build a Team That Delivers Mutual Value
Salespeople can build trust and rapport by focusing on delivering mutual value for clients and their organisation. With trust, a salesperson lays the foundation for sales success by boosting their credibility, enhancing the company's reputation, and nurturing stronger relationships. 
When mutual value becomes established in your team's culture, your reputation increases radically. And the customers, who are sure that they made the best choice for themselves during their purchase, do not hesitate to advocate for your brand.
2- Improve the Quality of Conversations 
Your team's ability to deliver the right messaging determines your success. Identify the factors that reduce the quality of your team's conversations and support their communication skills by creating the right environment.
Focus your team's energy on potential customers who fit the ideal customer profile to ensure meaningful improvement with the right feedback. You can improve the quality of your leads by strengthening your team's alignment with the marketing team.

Self-confidence can unlock any mental blocks that limit your team's communication capabilities. Let them build confidence by pairing up less experienced team members with more seasoned ones. 

Discover gaps in your team's knowledge that create problems in their communication. Offer training opportunities to fill these gaps successfully.
3- Automate Repetitive Tasks
As in every sector, the use of automation tools in sales has increased significantly. These tools can do the heavy lifting for you when used effectively.
The purpose of automating repetitive tasks is that the salesperson focuses more on their time in front of the customer. And the more client contact your team has, the more they increase their chances of conversion. 
Take advantage of these tools by automating repetitive tasks, like scheduling meetings or sending emails.
4- Time Management
Help your team identify when they're most productive and give them opportunities to make the most of their productive time slot. Group similar tasks together,
like regular client check-in calls
,
and assign a period of time for your team to focus on each task group. 
Multitasking can be a valuable skill, but constantly moving between different tasks can lead to losing focus. The process of consistently having the same task makes your team more efficient, and they can take their knowledge of one task to the next. 
5- Support Your Team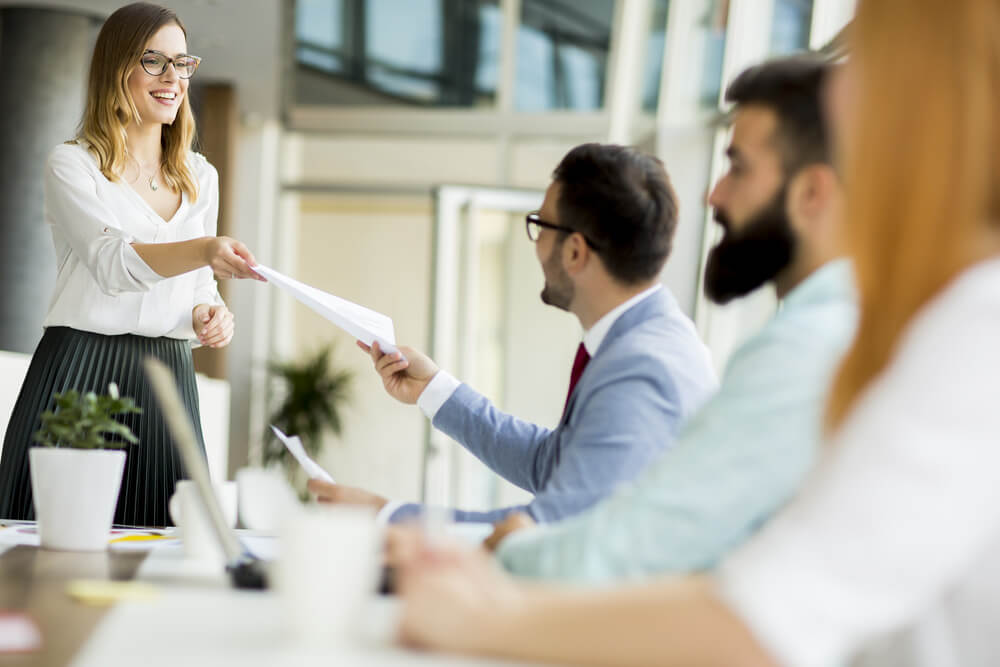 According to HBR, employees in companies where leaders have high confidence in their teams report
50% higher productivity
. This statistic is not surprising, as
stress and anxiety are the main factors that reduce productivity
. 
Each of your team members has their own unique perspective and expectations. As a leader, you have to manage each individual accordingly. So communicating with them one-on-one and understanding their needs is key.
Don't forget to regularly give feedback to your team, frequently ask about their concerns,
fears
, and frustrations, and try to find solutions. You can also actively involve them in decision-making processes. 
A team member with unspoken concerns will never be able to work with total efficiency. If every team member feels that you are supporting their development, they will be much more willing to work.
6- Celebrate Achievements and Give Incentives to Your Team
Celebrate individual and team successes when the opportunity presents itself. Introduce monthly rewards and highlight outstanding work by individuals or teams working on accounts.
This not only increases your team's passion for success but also makes it easier for them to set their own goals in line with your organisation's long-term sales goals.
7- Invest in Training and Onboarding 
Your investment in the development of your team gives the most significant long-term return. 
Research the most suitable onboarding and sales training solutions for your team. An effective training programme can help them gain the
necessary selling skills and a solid mindset
that enable them to overcome their daily and long-term challenges.
You can create information centres for your employees where they can get accurate information about your organisation, customers, and sales strategies.
8- Make Continuous Improvement a Work Culture
Learning is a habit, and often small incremental gains over time create the momentum to master a skill. Have your team
take advantage of every learning opportunity
by promoting a continuous improvement culture. Encourage them to learn from every conversation they have and from every task they complete.
Increasing Sales Productivity With LSOS Trainings
Confidence develops as the depth of knowledge and understanding increases. Positive participation drives development and productivity and shows up in results.
LSOS training programmes increase team productivity, win rates, and onboarding speed by giving your team the necessary sales skills and a strong sales mindset.
The unique methodology of LSOS sales training has been developed by a team of sales coaches combining years of industry experience with modern sales dynamics. 
If you're ready to maximise your team's productivity while improving sales performance, you can check out our
sales training programmes
.